I recently took a short 1 week trip to New Zealand South Island with some friends from medical school. Due to our residency training requirements and the difficulty in coordinating our leave, it is extremely difficult to go for a longer trip. Still, we managed to visit a few of the best places on South Island. A few of our friends have asked us for our itinerary, so here it is!


(Note that I went on this trip in November, when it was supposed to be spring. Road and hiking trail conditions may vary with season and weather)
Day 1 – Christchurch to Lake Tekapo
We landed at Christchurch airport in the afternoon. We immediately headed out to Lake Tekapo after getting our rental car. It was an easy 2.5 hour drive which we managed despite having just come off a 12 hour flight. The drive was not entirely scenic, but as we approached Lake Tekapo, the roads opened up to beautiful views of the distant mountain ranges.
At Lake Tekapo, we were struck by the beautiful clear blue waters of the lake and the blooming lupin fields. We took a slow walk along the lake front to the Church of The Good Shepherd, a quaint little (functioning) church overlooking the lake.
Lake Tekapo is also part of the Mackenzie dark sky reserve, which means it's ideal for stargazing on a clear night. Unfortunately, the weather was not on our side and it was too cloudy for stargazing on the night we stayed.
Day 2 – Mount Cook
We drove to Mount Cook the next day. It was a 2 hour drive. On the way, we stopped by Peter's lookout for this magnificent view.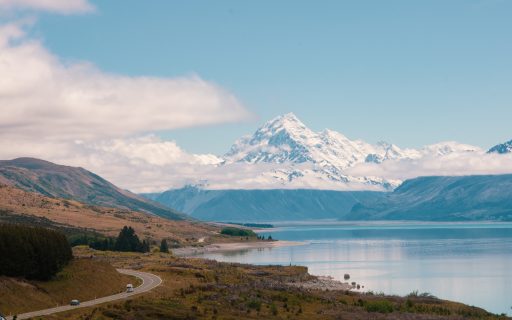 In the Mount Cook National Park, we hiked the Hooker's Valley Track. It is a 3-4 hour return hike which brings you face to face with Mount Cook. The track is well maintained and mostly flat. Along the way, we passed by 3 suspension bridges which served as good landmarks. The views are most rewarding at sunset.
Day 3 – Mount Cook to Wanaka
We then drove on to Wanaka, which is about 2.5 hours away. Along the way, we stopped by Shawty's Cafe and Restaurant in the town of Twizel for a very delicious brunch.
On the way to Wanaka, we drove through the scenic Lindis Valley.
When we reached Wanaka, we were greeted with a beautiful view of Mount Aspiring and its surrounding mountain ranges. And of course, #thatwanakatree.
Day 4 – Wanaka to Te Anau
We wanted to start the day with a hike up to Roy's Peak but the weather was against us. It was raining heavily and we found out that Roy's peak has been snowed in overnight. So instead, we decided to go for a short hike up Mount Iron before heading out to Te Anau.
Mount Iron is a short 1.5 hour loop track with easy inclines. We were rewarded with a (very gloomy) view over Wanaka at the top.
We took the Cardona pass through Mt Cardona. Halfway through, it started to snow heavily. We stopped at the Arrow Junction lookout, which looked like a scene out of Narnia.
Continuing on our 5 hour road journey to Te Anau, the rain foiled our plans to make a pitstop at The Devil's Staircase. We were absolutely exhausted by the long drive by the time we got into Te Anau.
Day 5 – Milford Sound
We decided to book a tour out to Milford Sound due to uncertain road and weather conditions (The road to Milford Sound may be closed after heavy snowfall – do check the website before leaving if you are traveling in winter/spring). Milford Sound is 2 hours away from Te Anau but the bus journey took a bit longer as the tour guide stopped a few times along the route for us to enjoy the breathtaking scenery. I wished we had driven the route ourselves so we could have had more time to soak in the views.
We were extremely lucky that the skies cleared for us when we got to Milford Sound, especially considering that it is notorious for its high rainfall.
We returned in the afternoon to rain again and drove for 2 hours to get to Queenstown.
Day 6 and 7 – Queenstown
We started our first day in Queenstown early by tackling the Tiki Trail, a 45 minute hike up steep inclines to get to the top of the Skyline Gondola, where we were rewarded with sweeping views over Queenstown.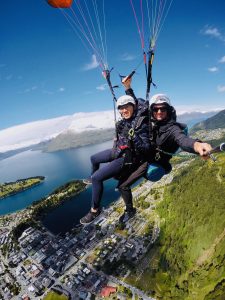 At the top of the Skyline Gondola, we went paragliding with the team at NZ G-Force. It was an exciting 15-20 minutes as we flew above the city of Queenstown. There are many other adrenaline inducing activities available in Queenstown such as skydiving, bungee jumping and jet-boating just to name a few. Truly the adrenaline capital of New Zealand!
We also attempted the Ben Lomond track, which starts from the top of the Skyline Gondola. It brings you to the Ben Lomond Saddle (3-4 hours return from the top of Skyline Gondola) and the Ben Lomond Summit (4-6 hours return). However, we had to abandon our trek halfway as the trail got extremely muddy and slippery from the melting snow at the higher portions. Nonetheless, we got to enjoy an amazing vista.
A must try place in Queenstown is Fergburger, which has been labelled the best burger joint in New Zealand. You might have to put up with a wait before you get you sink your teeth into that juicy patty as the place is extremely popular. But trust me, it's definitely a treat worth waiting for!
There are a lot more places I wished I had visited in South Island such as Glenorchy and Dunedin, but was unable to do so due to time constraints. I guess that would be a good reason for me to return to this beautiful place in the near future!